A few weeks ago, the kids and I spent a few hours with my brother & sister in law in Phoenix before we headed home to Texas.  When we arrived, there was a bowl of the most amazing popcorn ever on the counter.  It was perfectly seasoned and perfectly buttered.
Travis was nice enough to explain how he made this amazing snack–the old-fashioned way!
Start off with some olive oil in your pan.  Add in some seasonings.  Trav's popcorn was spicy–he put in some red pepper, some Mrs. Dash seasoning, and some other yummy stuff.  (I didn't write it down, so I made up a recipe when I got home).  Heat up the olive oil a bit.
A great tip from (http://www.simplyrecipes.com/recipes/perfect_popcorn/) is to put in just 3/4 kernels and wait until they pop–that will tell you the oil is at the right temperature.  Remove the pot from the heat and put in about 1/3 cup of kernels–enough to cover the bottom of the pan in a single layer.  Give the kernels about 30 seconds to heat up, and then put the pot back on the heat.
Make sure you have the lid on!  When the popcorn starts popping, shake the pot back and forth to keep the kernels at an even temperature.  Once they stop popping, pour into a bowl.  The popcorn will be evenly coated with olive oil (tasted like butter!) and seasonings.  I've tried just salt–yummy–Jamaican Jerk seasoning (from Pampered Chef), and Italian seasonings.  All three turned out really delicious.
Popcorn is filling & light & a great source of fiber. :)  Enjoy!
Karen
Our family just doesn't eat a lot of lettuce.  I've gotten pretty great at adding spinach in to pretty much anything–from smoothies to quesadillas–but it takes us awhile to use up lettuce.  So when kale came with our new CSA basket, I knew I had to get creative.  (especially since we don't have chickens to feed it to! lol)  I've been hearing about kale chips, so I thought I'd look that up.  I am so glad I did!  Even Tristan (our family Mikey–remember those old Life cereal commercials?) loves them and couldn't wait to tell Daddy about the lettuce that tastes like potato chips!
Even better–it's SUPER easy to make kale chips!
Just cut the middle stem out, leaving the leafy edges.
Put in a bowl and pour in a little bit of olive oil.  I put the lid on the bowl and shook it around to coat the leaves with the oil.
Put on a baking sheet, shake on a little sea salt, and bake for about 20 minutes in a 300 degree oven.
Amazing!  They DO taste like potato chips–what a great, healthy snack!
Have you ever looked at the clock and thought, "Not again!  It's 6 pm and everything is frozen!"  Yeah.  Me, too.  All the time!  And it drives my husband crazy!  The kids and I are perfectly happy with cereal or sandwiches or eggs or even cheese and fruit.  But he wants a meal.
I started researching something I'd heard about before–making a bunch of meals at one time and freezing them.  I've had a lot of success in the past with making a few meals at once and freezing the extras–see my post on beef HERE and chicken HERE.  So, when I read this post over at Annie's Eats about freezing food for all different meals, I decided to give it a try.
My list evolved over several days to include:
Baking:  bread, hamburger buns, muffins, cookies
Burritos:  breakfast, bean & cheese, beef and green chili, chicken quesadillas, and chicken enchiladas (all use tortillas!  ;)  )
Ground beef:  tacos & nachos–cook up ground beef and shred cheese, freeze separately, then bag together.
Chicken:  chicken nuggets & marinated teriyaki for stir fry
Stew meat:  stew (of course) & stew pastries (sounds yummy!)
Pasta:  lasagna, manicotti, penne pasta
Veggies:  zucchini & squash, twice baked potatoes
Turkey pot pie…
Yes.  I feel a little overwhelmed, too.  But today, I got busy.  First, I made pancakes.  A LOT of pancakes–regular, chocolate chip, blueberry, and strawberry.  Enough for 4 breakfasts.  Then, I got two batches of bread going–one for hamburger buns and one for regular bread.  As the bread was rising, I made a batch of cranberry-orange muffins (3 breakfasts!), including one batch of mini-heart shaped muffins for Valentine's Day.  :)  Then, I made peanut butter, chocolate chip, and oatmeal cookies.  It took me about 3 hours.  I ended up with two loaves of bread, 12 hamburger buns (2 dinners for us), a dozen muffins + my V-Day muffins, 2 dozen peanut butter cookies, 2 dozen chocolate chip cookies, and 3 dozen oatmeal cookies.  All stored up in my freezer. So cool!
If only we could live on cookies and muffins…
Since I don't think that will fly with you know who, I'm going to tackle my tortilla foods tomorrow.  I'm thinking I can whip up all those burritos, etc in the morning and MAYBE have enough steam to get some of the other stuff done.  I'm planning a burst with my business in the next few months, so I know I'll be glad I took the time now to stock up!
I'll let you know how the rest goes…
Karen
I don't know what it is, but I have been really in the mood to organize the past few days.  I think it's the fact that I'm not teaching & I always take a few weeks off from my business during the holidays so that I can feel like a normal person for a few weeks out of the year.  :)  Here are some of the projects I've tackled so far:
1.  Vanity in my room.  I have a cute little built in vanity in my room that has become kind of a catch all.  There was a plastic crate underneath filled with files, so I couldn't put a chair there.  On top, thanks to my friend, Jean Ann the Jewelry Lady, I had two jewelry boxes OVERFLOWING with beautiful jewelry.  Not to mention all of Ryan's junk.  SO, I made this fun little jewelry holder to hang in my closet, cleaned out those files, and cleared off the top of my desk.  Now I have a nice little workspace!  Loving it!
(Basically, I took a linen towel that I got at Handy Andy for $1 and used white tulle & seam binding to make pockets.  Clear vinyl would be sturdier, but this was VERY inexpensive & works for me!)
2.  Drawers in my night stands.  What is it with me & junk?  lol  We have two beautiful nightstands that have two giant drawers inside the cabinet & a smaller drawer on top.  I have books in there, swimsuits, things the kids have made for us, journals.  It's pretty ridiculous.  Well, we are planning to sell our bedroom set to make more room & pay off a credit card (yahoo!), so I decided to set an intention to clear out those nightstands.  So far, I've cleared out three of the four big drawers & re-organized my dresser.  Unbelievable!
3.  The closet in the garage.  On Thursday night, we discovered that the washing machine was leaking everywhere in the garage.  (yep, old house= no laundry room)  We thought there was a small clog in the washing machine drain…and then when we woke up on Friday morning we found otherwise.  I had to wait all day for the plumbers to arrive, so I figured it would be a great time to clean up the garage a little bit.  In this little closet in the garage, I keep all my business stuff, as well as some other things (Christmas tins, canning jars, swimming stuff…)  This is what it looked like (and it was driving me NUTS!!!):
So I used some plastic crates I had to make shelves to clear out that ridiculous plastic drawer system, hung up some nails for the tennis rackets, and voila!
I am so excited to say that, in the process, I also cleared off a shelf in the hall closet in the house where more business stuff was hibernating.  (guess what else is on the organizing list?!)  It took me about two hours to finish this closet.
4.  The Boys' room.  So, tonight I decided to spend a few hours cleaning out the boys' closets.  We used to have a nice bookshelf with canvas containers to hold all their little toys.  But in this house, there is NO space for a bookshelf.  So we have two tiny closets and a giant window seat bench that always look like a tornado swept through.  Two hours later–toys are tamed, closets& bench look amazing.  And I feel great!  (I totally forget to take before & afters in my enthusiasm!)
What are the keys of organizing?  For me, the first thing is to keep it simple!  I didn't do anything fancy–just used what I had (like the plastic crates to make shelves!).  It can be tempting to go out and spend a fortune on organizing equipment, but if you look around, you might find some unexpected uses for the things you have.
Second, I am not afraid to PURGE!  I admit, I tend to be a bit (ha!) of a packrat.  But if I haven't used something in over a year, I throw it out, give it away, or sell it.  There's a cool local group on facebook where moms sell their stuff to other moms, craigslist style, and I have a GIANT pile of stuff that is going on there in the next week or so!  Hopefully, I'll make some extra cash as I make extra space in my house!
Third, you don't have to organize your whole house at once.  Just tackle the areas that are driving you crazy.  If you have just an hour or two a day, you can get a lot done over time.  In fact, there is an organizing party going on over at A Bowl Full of Lemons.  If you feel like you need some company, she's giving everyone a challenge each week.  If you post your before & after pictures, you might even win a prize!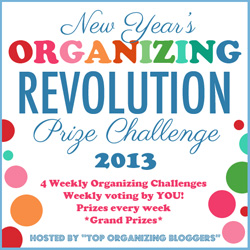 I don't know about you, but it always helps me stay motivated when I'm working with a friend.  If you are feeling disorganized, take some time at the beginning of 2013 to get things in order in your home!  Let me know what projects you're tackling!
Karen
I hope y'all had a wonderful Christmas!  The kids and I had so much fun doing all our Christmas activities!  Here are some of the highlights:
We made these cute no-sew ornaments by wrapping a styrofoam ball with a strip of Christmas fabric & pinning the ribbon and the top of the ribbon with a stick pin.
I found a really cute post on Pinterest about making ornaments out of old spoons.  Since I didn't have any old spoons, I bought some cheap new spoons at Handy Andy & some metallic acrylic paint and we made these:
On the first day of winter, we made these cute giant snowflakes out of popsicle sticks (another Pinterest idea!):
We also made these cute snowmen out of white bottle caps that I bought at Hobby Lobby.  I hot glued the caps on a piece of ribbon and the kids decorated with markers.
Another fun project we did with our friends at writing class.  The kids each decorated one cookie, and then I had them write down instructions for making their cookie.  They swapped instructions and each of them tried to make the same cookie as their partner.  It was fun, and I was impressed with how close some of them were!
(They were already eating by the time I thought that I should take photos!)
Now we're on to the Twelve Days of Christmas!  We started this tradition last year.  Starting the day after Christmas, the kids have a RACK (Random Act of Christmas Kindness) each day for the 12 Days of Christmas.  For each act of kindness, they also get to do a fun activity or get a small gift.
Some of the activities we've done so far:
Gone to the library and left a little box of dimes for folks with fines due.
Had lunch at Wendy's and gave away a free Frosty coupon.
Went to see the Hobbit and bought two tickets for the folks in line behind us.  (They declined, so we left the money and our RACK coupon with the cashier.  Hopefully someone was blessed that day!)
The kids have so much fun taking turns to see what their mission is for each day.
Megan's two best friends had their 11th birthday last week, and Megan, of course, wanted to do something extra special for them.  She had purchased journals and "Smencils" for them already, but needed something special to pull it all together.  All of the girls carry around their journals with them everywhere they go, so I thought, why not make a cute purse to hold their journals?
I don't have a specific pattern (this is a "Karen" thing!  lol), but the basic idea is to create a "purse" that opens up and holds a journal and pens/pencils or even a small Bible.  I chose three colors of fabric–one plain, one with a basic pattern, and then one with a really vibrant pattern.  I cut out two pieces of the plain fabric to be the backing–these are about 12 x 18.  Then, I cut out two pieces of the basic pattern to be the pockets on the inside–these are about 8 x 11.  I decided to quilt the front cover, so I used all three fabrics to cut out 12 smaller blocks (4 of each fabric)–probably about 4 x 5.  The long, skinny pieces are the handles–you'll need two strips about 20 inches long and 3-4 inches wide.  There's also a smaller piece, about 10×2 that I used for a velcro closure to keep the purse closed.  The L was just for fun–a little monogram that I outlined with the white rickrack.
So, I first sewed the squares together to create a quilted look for the outside of the purse.  I layered the quilted back with a thin layer of batting and sewed the quilted part to one of the plain pieces.  (I sewed different color bags for each of the girls, so the pictures are mixed.)  As you can see, I did not cut my squares on the first bag perfectly even, but it still turned out cute!
I sewed velcro to one end of the outside (quilted side) and then made the closure and sewed the matching velcro strip to the end of that & sewed that onto the opposite side (in the picture above, the velcro would be sewn onto one of the center solid green squares and the closure onto the other center green square).
Now for the inside!  I folded the two pockets in half (with fronts facing) and sewed together, leaving enough room to turn them inside out & then sewed them shut.  On the pencil pocket, I centered the letter & sewed on, then sewed the rick rack on around the edges.  Then, I sewed the handles together (right sides facing) and turned them inside out.  this is the basic layout of the pockets (this was taken before I ironed everything and sewed the pockets together):
I sewed the pockets to the lining on three sides, leaving the left sides open.  A journal will slide nicely into the pocket on the right, and I used velcro to provide a closure for the pocket on the left to hold pencils, etc.
Once the two sides are completed, I put them together, right sides facing.  The handles you line up with the ends matching the outside edge of the bag, about 3 inches in from the edge on each side. The handles will be inside of the bag as you are sewing the outside and inside together.  I also pinned the closure to the inside to avoid accidentally sewing it.  Sew all around the edges (I went twice around to make sure the seams were solid), leaving room to turn it inside out.  Turn inside out and finish sewing together.  That's it!  Here's the finished inside:
Some of you are probably noticing the crooked seams (just cut everything perfectly & you'll avoid that!), but these turned out really cute and were a hit.  And they probably only took an hour or two to make.  Fun project for Christmas!
I don't know about you, but I get tired of rushing around to make the perfect holiday–only to feel a huge sense of letdown when the big day ends.  So, last year we decided to focus on the true meaning of Christmas.  Rather than presents and Santa Claus, we focused on Jesus and giving.  Here's what we did last year… I'll share my 12 Days of Christmas ideas with you later on in December, but for now, I wanted to share with you what we're doing for Advent this year.
Advent Dates for 2012
• December 2 – First Sunday of Advent
• December 9 – Second Sunday of Advent
• December 16 – Third Sunday of Advent
• December 23 – Fourth Sunday of Advent
Family Devotions:  Last year, we read some Advent verses I found on Focus on the Family's website.  But at the end of the season, I picked up a book called Our Family Christmas.  There are 28 devotionals, each with a verse, a short devotion, a family activity, and a prayer–all designed to help us focus on the Reason for the Season.  We're going to do a devotional each day this year.
Something Fun:  Last year, we made a paper chain.  On each chain was a fun activity to do as a family.  We're going to do this again this year.  Some are from the devotional, others are favorites from last year, and others are new!  Here are some of the items on my list:
1.  Go to a Christmas party!
2.  Make greeting cards for soldiers.
3. Go see a Christmas play.
4.  Send a thank you to Jesus.
5.  Go see St. Nick at the Sophienburg
6.  Wassailfest
7.  Deliver candy canes with Christmas message.
8.  Make gingerbread houses.
9. String popcorn
10. bake cookies
11.  Deliver cookies to the neighbors.
12.  Go shopping for Christmas sock exchange
13. Make ornaments
14.  Call Grandma and sing a Christmas song
15. Go see the lights at Santa's Ranch
16.  Make peanut butter reindeer fudge
17. Wrap presents
18. Make paper snowflakes
19.  Watch a Christmas movie
20. Make popcorn balls
21. Go caroling
22. Make a Christmas Craft
23. Decorate cookies
24.  Christmas Eve!  Unwrap a present!
Every year, I'm running at the very last minute getting my Christmas cards done…but it's OK because I use an amazing service called SendOutCards.  Once I get my photos done, I just upload them and create my card.  Since I already have my contacts uploaded, I can get my cards sent with just a few clicks & they are in the mail the next day!  The best part is that SOC is cheaper than Shutterfly–and even less expensive than Wal-Mart!
Here's a picture of the front of my card from last year:
The cool part is that I created this card completely from scratch using my photos and elements in the SOC system.  The inside of the card was super cute, too:
SOC cards are better quality and more customizable than most other services AND they are much less expensive!  50 custom cards, mailed for you, with SOC is about $68.  With Shutterfly–it's $144 & with Wal-Mart about $95.

Here's how it works:

If you know a SOC rep, I highly recommend that you contact him/her to get some help with your Christmas cards.  If you don't know anyone, I'd be happy to connect you!
Here in New Braunfels, it's the fabulous time of year known as Wurstfest.  For 10 days, people come from all around to eat sausage on a stick, drink beer, listen to German music, and just have a great time.  Wurstfest started in 1961, and it's a BIG DEAL!  :)
While most people associate Wurstfest with the beer and the sausage, the New Braunfels Conservation Society also sees this as a time to celebrate the town's heritage.  At Conservation Plaza, where many historic buildings have been relocated to create a little historical village, they serve authentic German lunches and desserts.
Since Ryan & I joined the Conservation society this year, I was asked to contribute a dessert to be sold at the Forke Store (pronounced fork-y).  Having some German heritage myself, I do have some old family recipes, including my favorite, lepkuchen/Lep Cookies (a sort of soft gingerbread cookie), but my recipes take a lot of time, and I thought I'd look for something different to do this year.
Well, I settled on Versunkener Apfelkuchen, or "Sunken Apple Cake," which is a relatively simple cake which you press sliced apples into before baking.  Since Josyan didn't like the picture of the only English version I could find (here), I decided to try my hand at decoding German so I could make this beautiful cake.
This version contains cranberries, which I love!  But…it's also completely written in German.  With the help of the first recipe and Google Translate (and maybe a bit of my German heritage), I was able to figure out a recipe.  And, I decided to make cupcakes–so they are easier to sell (AND so we can all have a taste!).
Here's the recipe I used:
1.  Cream 1 cup sugar and 1 cup butter.
2.  Add 1/4 cup milk & 3 eggs and beat.
3.  Combine 1 1/2 cups flour (I used this gluten free flour, yippee!) and 1 1/2 tsp baking soda, then mix in with other ingredients. I added just a tad more milk at this step–and decided that it didn't taste quite sweet enough, SO…
4.  Mix in about 1/4 tsp salt and about a tsp of vanilla.  (If I hadn't added the cranberries, I might have added cinnamon…)
5. Fold in 1/2 cup cranberries (cut in half–easier to do from frozen).
6.  Pour into greased pan (or make cupcakes like I did!).
7.  Peel and slice 2 or 3 apples and cut into small pieces.  Press these and sliced cranberries all the way into the dough.
8.  Bake at 350 for about 25 minutes or until cooked through.
9.  Sprinkle with powdered sugar.
There you go…pretty & SUPER yummy!
I LOVE fall–and one of my favorite things about fall is pumpkin pie.  And pretty much pumpkin everything!  Since we are still working on our nutritional counseling journey, I decided to start experimenting with some grain free, dairy free, sugar free pumpkin pie recipes.
Here's the one I'm trying today:
Crust from Here.   I just stopped at one of our local health food stores yesterday and bought some coconut sugar.  It's still sweet–but way better than cane sugar!  It actually tastes like brown sugar, so I used that instead of the sugar in the recipe.  My gluten free flour is Bob's Red Mill, which is also pretty much grain free.  The crust (before baking) tastes a lot like the topping on an apple crumble, so I will probably bake that at some point, too, and use this as my crumble, since none of us can have oats.
I bought a can of organic pumpkin and just used the recipe off the can for the filling.  (Pumpkin isn't on "the list," but I thought, why not buy organic?) Since we are dairy free, I had to find an alternative to the sweetened condensed milk.  There are some great recipes for making your own out of coconut milk & sugar, but I also read that a can of cream of coconut will work, too.  It tastes about right & is the right consistency, so we'll see.
For whipped cream…I'll use the coconut whipped cream recipe I posted HERE from the Pina Colada Poke Cake (definitely not grain free!).
The pie is in the oven now and smells heavenly. I will post pictures when it's done.